At Professional Yoga we believe in safe and sustainable yoga practice, helping our yoga students by tailoring to their abilities and needs.
We provide yoga classes for groups as well as one-on-one sessions.  Classes are half an hour, one hour or 90-minutes long.
We also teach yoga for corporate clients, both small groups and individuals, families, including children and a variety of people, including ironmen trainees, new mothers, people with disabilities, the blind etc.
Pregnancy Yoga
Mums and Bubs Yoga
Chair Yoga
Kids Yoga
Private Sessions
Relaxation and Meditation
The driving force behind Professional Yoga is Edit Horvath. Originally from Hungary, Budapest she started to practice yoga when only 11 years old. She practiced and trained in numerous countries, Bali, Indonesia, Auckland, NZ, as well as in Hawaii, USA, Hungary etc.
Professional Yoga Instructors
Edit Horvath
Edit teaches hatha yoga, the most commonly practised yoga style, which combines 3 elements: physical poses; controlled breathing; and a period of deep relaxation or meditation.
P. +64 210 821 3462
E. edit@professionalyoga.net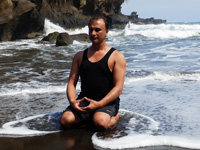 Muna Ladha
I started Shukokai Karate at the age of 14 in England, specialised in Kumete, open free style competition fighting. At the age of 19 I became the youngest member of the British Fighting Squad. After receiving my first Dan I went onto opening my dojo and attending courses on Judo, Akido, Kalari, Tai Chi and many more.
Moving to New Zealand in 1997, I carried on solo practice and took up yoga which I found very enjoyable and a great workout. I trained as a yoga teacher with Yandara Institute in Bali to extend my experience. I enjoy my Hatha practice and find teaching fulfilling.